Bob and George Eid began the business in 1993 with the hope of a successful coffee house. From a once vacated block, One World turned into a successful restaurant with a strong community following. This success has also provided an opportunity to launch a new restaurant, which will be located next door to One World Café. The restaurant will have a different menu and theme from its bohemian, eclectic neighbor and is slated to open later this year. "The new restaurant will be an evolution of what we do…we like to cook and eat. One World is the mother ship, we're going to leave it alone," Greer said. "But, there will be investment opportunities with this new project."
They have even branched out further into the community with One World Catering, rooting their gourmet food downtown at the elegant Packard Plaza, which they recently renovated.
"When Bud Grieves leased us the (Packard) building, he knew he got a team, not just one person," Bob Eid said. "It's a collaboration at every level."
The bustle of students, out-of-towners and employees viewed through the long windows of the brick building, based at the corner of Main and University, bypassed the area in the early '90s. Then, the 20th century building, which housed a drug and dime store in the '50s, called a neglected neighborhood home. Nearby residents watched as shoppers dwindled, plywood multiplied on former businesses windows and crime rates climbed. But the former Chicago residents had another vision. They saw Bradley's campus brimming with the perfect clientele—students seeking a place to study and socialize. They saw the Cottage District and Peoria area without a gathering place, which proved to be the key to a flourishing artistic community and revived neighborhood.
George Eid, who now lives in France, was a full-time Bradley theater student in 1993 but still managed to find time for the fledgling business and created the initial coffee menu. Bob Eid was making a living selling collegiate T-shirts at campuses across the country and was looking for a change. Growing up working in their father's grocery store on the south side of Chicago, the brothers were acclimated to the behind-the-scenes duties of a business owner, but it wasn't what they would call a smooth transition.
Around 1998, with George in New York, a friend, Duane Greer, who has dabbled in just about every media outlet, was formally enlisted along with Bob Eid's brother, Sam, who started the now retired Peoria restaurant, The Crazy Burrito.
"Everything you could do to put a place out of business, we have done," Greer said with a laugh. "But we worked out the kinks over the last 10 years."
When general manager Monica Studnicki and caterer Michael Morris joined, a managing power team was born, Bob Eid said. Now with 100 people on the payroll and still growing, One World has imprinted an identity of its own on Peoria. Longtime customers may still remember the hand-painted starry night mural which bordered the building for many years. The vintage era of One World was highlighted by local amateur stage and musical acts, but the focus was still a little fuzzy on food presentation. Longtime One World visitors can remember when Kinkos was open 24 hours on Main Street and the then-coffeehouse offered customers a couch and a chair to lounge on. Now, customers like Michael Osborne of Morton and his business guest Stephen Creel of Austin, Texas can sit at colorful wooden tables and take advantage of a speedy wireless connection.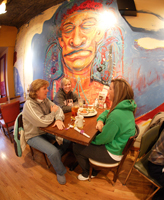 "I like fresh-brewed iced tea and they have that here too," Creel said. "I wanted to come here again after visiting the last time."
Peoria resident Joe Whitby, 27, estimates he has read over 100 books inside the café since 1997. "I come here before or after work, it's relaxing. There's good music, great Italian sodas and great salsa," he said.
The new millennium has brought a host of changes to One World including a smoke-free lunch, multimedia business lounge, catering business, full bar and a new black awning. Some of the wall-size murals inside, completed years ago by local artists, still remain and Bob Eid said he makes every effort to maintain artists' work. In the dining room, two butter-colored walls rest up against a mural of winged monks who still watch over customers from tan boulders; and, on the opposite wall, Amelia Earhart still smiles glibly at customers' conversations. Priced and framed art work is suspended on the windowless wall and a recent art show at the café left one local artist reeling after most of her pieces sold.
What hasn't changed is the casual atmosphere for both employees and customers. Sometimes pierced, dyed or branded, employees embody One World's philosophy of acceptance and equality.
"You don't have to project cool, you just have to be cool. It's about respect," Greer said. "They are happier to be themselves and they serve the customers better."
Bob Eid added, "It's an unwritten rule that customers and employees can completely be themselves. There's an openness and creativity with that that leads to enlightenment."
As the employees are anything but common at One World, so are the customers. "We're defying demographics all day," Greer said. Anyone would be hard-pressed to find another restaurant where an 80-year-old woman, intrigued by an arm-length of tattoos, can enjoy a discussion about them with their owner. And on any given afternoon, grandparents bring their grandchildren in for some crazy curly carrots—a special vegetable peeler makes them extra curly, college students congregate over hummus and iced coffee and 40-something business executives meet to discuss work over a World Turkey Club and take advantage of the business lounge. The owners haven't so much branded a concept on the business as they have shared their concept of embracing diversity with the community and its multicultural palate.
Even straying away from a homogenized menu, like so many chain restaurants, One World serves up eclectic eats made from the freshest ingredients and prepared just minutes before they reach the table. From falafels to Psychedelic Chicken Salads complete with homemade salad dressing, the menu isn't themed or stuck on one particular part of the country—it lives up to the restaurant's name.
Bradley employee Rebecca Sitte said she appreciates the homemade tomato coulis (a thick, pureed sauce) which covers the oven-broiled tilapia.
"They just have really good food here and chai," Sitte said. The word homemade is a constant on the menu from salad dressings and hummus to Zataar breadsticks—Zataar is a Middle-Eastern blend of savory spices and herbs.
Many former employees, who have since scattered themselves throughout the world, occasionally find their way back to try out new items on the menu, Bob Eid said. Putting walnuts on pizza may not be for some people, but it's delicious and if you want it, even at 9 a.m., you can have it. Breakfast, lunch and dinner are served all day. "People working third shift come here and at 9 a.m. they don't want breakfast, it's their dinner time," Bob Eid said. "We give them what they want."
Over the years, servers have provided their input on menu items and the owners ate it up. The dishes even have their own origins and can be traced back to a late-night experiment or an accidental flavor combination. "We used to come up with our own sandwiches at 3 a.m.," Greer said. "Now that Joel's here, it's actually science." Three years ago, Chef Joel Brooks found his way into the kitchen and put his own mark on the menu. He displays his culinary creations by creating edible works of art, especially with the salads. "It's all made-to-order," Brooks said of the menu. "It's quite possible to get ten (of the same) salads that all look different." After two years at Kendall College, a top-rated culinary arts school in downtown Chicago, Brooks went to work at Hotel Nico, now the Westin Hotel, in Chicago. Before he made the transition to One World Café, the Pekin native also catered banquets at the Peoria Mount Hawley Country Club. One World Catering is gaining high marks from satisfied customers and numbers at the Packard Plaza are ballooning. "People find out we do a better job than most. It's toward a higher end, comparable to a hotel or a country club," Brooks said of the catering and Packard Plaza's food offerings. "I can cook just about anything anyone can name. As long as they don't mind explaining it, I don't mind trying it." What has Sam Eid and Chef Brooks buzzing is the large kitchen One World Café will soon share with its new neighbor. "The new space will allow us to expand into a dinner menu," Sam Eid said. "We're hugely looked at as a lunch place. We will pull the kitchen into a bigger space and have pasta meals and expand the bar area." The new kitchen will also bring a grill and sauté station which offers many new menu possibilities.
"It's not just about eating anymore, it's really about entertainment and hospitality," Greer said. "That's what's missing now." With countless comment cards begging for another One World closer to Chicago, an offshoot could possibly spring up down the line.
"Once things are tight here, we could go on the road," Greer said. "We are a wonderful dysfunctional family that functions extra well. We all know each other's brand of crazy and we can work around it—it keeps things moving and keeps it fresh. Everyday is a new day." a&s