Scouting in central Illinois is way more than square knots and campfires
William Dickson Boyce is rarely included in lists of great leaders from central Illinois. This apparent oversight doesn't take into consideration Boyce's role in the founding of the Boy Scouts of America.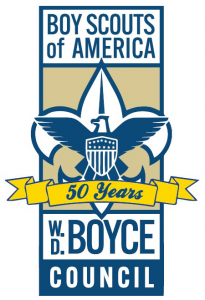 "The Founder" lived and is buried in Ottawa, Illinois, on the northern edge of the Scout council that has honored his name since 1973.
The W. D. Boyce Council turns 50 this year.
A successful Chicago newspaper publisher, Boyce incorporated the Boy Scouts of America in 1910 after a chance encounter with a Scout on a foggy street in London. Impressed by the boy's willingness to help without reward, Boyce sought out Lord Robert Baden-Powell, who had launched Scouting in England in 1908. Boyce brought Baden-Powell's ideas home and planted the seeds of a new youth organization.
The rest, as they say, is history.
Taking Root
Scouting flourished in central Illinois, eventually coalescing in the Starved Rock Council, based in Ottawa, the Cornbelt Council, based in Bloomington, and the Creve Coeur Council, based in Peoria. Thousands of young people formed Cub Scout packs and Boy Scout troops, learned to tie knots and safely handle a knife, slept under the stars and cooked over an open fire. All the while they developed leadership skills, gained independence and learned to appreciate the outdoors.
A national trend toward consolidation led the three councils to combine their administration, finances and program support in 1973.
Today, the W. D. Boyce Council encompasses all or part of 14 counties, with service centers in Peoria and Bloomington. Ingersoll Scout Reservation (ISR), a 646-acre property along Cedar Creek west of London Mills, serves as the council's summer camp. An average of 2,000 Scouts BSA members (ages 11–17) attend  resident camp there in June and July. Hundreds of Cub Scouts (grades K–5) attend Summer Day Camp in each of the Council's four districts. Older Cub Scouts and their families attend weekend resident camp at ISR.
The Council also maintains Cache Lake Camp, a wilderness fishing and watersports outpost just across the Canadian border in Ontario.
Ben Blumenberg, scout executive and CEO of the Council, said the anniversary is a significant milestone for the youth the Council serves and the communities where those young people and their families live.
"This anniversary highlights the commitment the community and the three previous councils had to ensure that Scouting survived and thrived," he said. "When times were difficult, they came together and said, 'What we are doing is too important. Let's join forces and we can do it better.'"
Scout Oath
"On my honor I will do my best to do my duty to God and my country and to obey the Scout Law; to help other people at all times; to keep myself physically strong, mentally awake, and morally straight."
Scout Law
"A Scout is Trustworthy, Loyal, Helpful, Friendly, Courteous, Kind, Obedient, Cheerful, Thrifty, Brave, Clean and Reverent."
Scout Motto
"Be Prepared."
As Relevant as Ever
When the W. D. Boyce Council was formed, no one could have predicted how dramatically Scouting would change over the ensuing decades. But even with fewer members (3,524 in 2022, down from 7,978 in 2017 and even higher in the 1970s), changing family dynamics and competition for young peoples' attention, Blumenberg insists the ideals and aims of the program are as relevant as ever.
"The program components have evolved, but the emphasis on leadership and character development, citizenship, and physical, mental and emotional fitness have always been the core of Scouting," Blumenberg said.
Mike Stobaugh, a long-time adult volunteer, agrees: "Baden-Powell said Scouting is a game with a purpose. The games kids played in the early 1900s were a lot different from what they are today, but the purpose remains the same."
The game has continued throughout Stobaugh's life, a testament to the staying power of Scouting in central Illinois. He earned the Eagle Scout as a youth and continued to be involved in the program, including time as Cubmaster and Scoutmaster when his son was involved. He currently is a member of the Scouting Historical Society of Central Illinois (http://shsci.blogspot.com), which works to preserve and document Scouting in the region.
All in the Family
One major change in Scouting was opening membership to girls and young women starting in 2019. The BSA's Explorer program accepted girls as far back as 1969, and Venturing allowed young women age 14–20 to join its ranks since 1998. Four years ago, the traditional Cub Scout and Boy Scout programs, rebranded as Scouts BSA, began allowing girls on an equal footing with boys.
Today's Scouting encourages full family participation in all programs, with increasing leadership responsibilities being placed in the hands of youth as they get older. In 2022, the Council presented 115 male and female members with the Eagle Scout badge, the most prestigious rank.
"Scouting caters to families participating together at every level," said Blumenberg. "It's the only activity you can do with your kid where you wear the same uniform and do the same activities.
"In Scouting, everybody plays. That makes a huge difference."
Breaking Barriers
Not long after girls were allowed to join Scouts BSA, Celeste Saul of Dunlap became the first female Eagle Scout in the W.D. Boyce Council. Saul joined newly formed Troop 1627 in East Peoria and quickly set about completing the requirements for the highest Scout rank. They include learning outdoor skills and camping, holding leadership positions, and completing a minimum of 21 merit badges.
Most Scouts take up to five years to complete the Eagle requirements before age 18. She did it in 23 months.
Saul said she was attracted to the program by the outdoor adventures and the by the sibling competition, as her younger brother was in a Dunlap troop and she wanted to do the same things he was doing.
"Scouting has given me a lot of life skills, like knowing what to do in certain situations. I have gained a lot of leadership and public speaking skills," said Saul, who will participate in the National Scout Jamboree this summer in West Virginia.
'Fun … and Learning Along the Way'
Mike Gray, the 2023 summer camp director at ISR, is also an Eagle Scout (2010) who spent nine years on camp staff as a youth. He has a full-time career, but for the second year now he has returned to Scouting.
"It's the friendships, and watching the staff and Scouts grow and develop and go through the same experiences I did," said Gray. "Scouting plays a huge part in my life every day."
Gray said he has witnessed many changes at summer camp, such as science, technology, engineering and mathematics (STEM) offerings, "but a lot of the classic, core outdoor programs have stayed the same."
Why Scouting? "You learn so many life skills, more than is generally known by families that are not in the program," Gray said. "There are so many character development opportunities and leadership positions. You get to plan events, learn to speak in public, learn to solve problems and be respectful.
"We do all of these things in such a fun way that you don't realize you are learning something along the way."
Celebrating 50 Years, Looking Ahead
The Council kicked off its anniversary celebrations last summer. They will culminate at a camporee on the riverfront in Ottawa Sept. 22–24. Blumenberg said as many as 2,000 Scouts are expected to participate in camping, fishing, watersports, archery and other activities. There will be fireworks and evening entertainment. A history booklet has been published and the Council is in the midst of a 50th anniversary capital campaign.
"For organizations and individuals interested in developing the leadership and youth in their community, Scouting is a great place to invest," Blumenberg said.
Fifty years is not the end of the line for the W. D. Boyce Council. There was healthy 9% growth across all programs and districts in 2022, on par with national growth and a reassuring reversal from declining membership during COVID, said Blumenberg.
"One of the positive outcomes of the pandemic is that families and parents are focused on things that will make a big impact in their kid's life," he said. "I believe families see that and experience that in Scouting."
'A Wonderful World'
As it has done from the beginning more than 100 years ago, Scouting pursues four goals: character development, leadership development, citizenship training and personal fitness. These values are incorporated in the Scout Oath and Scout Law, which Stobaugh said provide "a moral compass for kids.
"The Scout Oath and Law teach kids how to be responsible not only for themselves, but for others," Stobaugh said. "Wouldn't it be a wonderful world if we could all live by the Scout Oath and Law?"
Scouting References
Find a Scouting unit near you at beascout.scouting.org. For more about Scouting history, visit the Ottawa Historical and Scouting Heritage Museum or go to its website at ottawahistoricalscoutingmuseum.org.
Scott Fishel
is a senior communications executive with WTVP