As president of Junior Achievement of Central Illinois, Mary Pille helps to inspire and prepare young people to succeed in a highly competitive global economy. Over the last six years, she and her team have taken the organization to new heights—including a 33% increase in revenue, geographic expansion from 12 to 29 counties, and the creation of three local boards to grow grassroots efforts in outlying areas. She is active in a range of local workforce and economic development initiatives, and is also a self-taught photographer, capturing images from her travels around the world.
Please describe your family, childhood and education background.
Growing up in Glasford, Illinois, my parents were great role models for what it meant to work hard and make the most out of what you have. I was always busy as a kid doing something or making things, and didn't really watch much television. I appreciated growing up in a small town where I could ride my bike and play outside until it was time to come in.
I graduated from Illini Bluffs High School, then went to Illinois State University where I studied fashion merchandising and business and received my Bachelor of Science degree. Later, I attended Bradley University and graduated from the Executive MBA program.
Tell us about your early career path. Did you have any mentors along the way?
I knew from an early age that I wanted to work in fashion or retail for my career and I wanted to have my own money. As soon as I turned 16—with driver's license in hand—I found my first job working in a retail store. Just out of college, I landed my dream job working for Bergner's [department store] and ultimately became a buyer. I had the opportunity to work as an assistant buyer in dresses for a very experienced buyer; it wasn't easy, but she taught me a lot about the business. I have had the good fortune of having many mentors along my career path.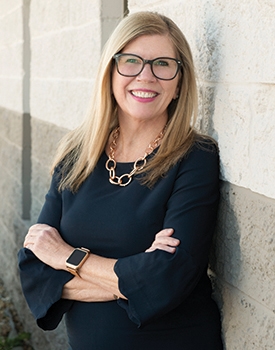 My retail career at Bergner's lasted 13 years before I embarked on my second career—working for a not-for-profit organization, the Employers' Association. The Employers' Association was a great growth opportunity in terms of pivoting in a whole new direction: helping companies with their human resources needs. It was during the EA years that I had the opportunity to rise to the level of running the organization, serving on the national board and beginning my work in workforce development. Those experiences helped prepare me to help youth on the pathways of work and career readiness; I am now just working earlier in the supply chain.
Since becoming president of Junior Achievement of Central Illinois, you have grown the organization and its impact significantly. Please tell us about JA's accomplishments under your leadership.
I believe that all the roles I have had over the years were in preparation for the work that is before me now. This is the most important work that I have had the opportunity to be a part of.
In the last six years, we have elevated JA's impact by progressively achieving new records each year for student impact. This past year alone, we set a new record for reaching nearly 18,000 students. We have been able to achieve this growth by successfully increasing our fundraising efforts, as well as expanding our geographic territory from 12 to 29 counties. We have been pleased to achieve a four-star status with JA USA for exceeding operating standards five years in a row.
What is one goal you hope to accomplish in your lifetime?
I would love to travel to all 50 states.
Who or what inspires you?
My children, Anna and Alex. They are very responsible, hard-working and fun!
How do you unwind after a long day of work?
I work on my photography and have a glass of wine!
If you could have dinner with anyone, dead or alive, who would it be?
I would have dinner with my mom. She passed away many years ago and I still miss her to this day. She was one of the most determined people I have ever known; she just didn't give up. She led a simple life, but made a lot of sacrifices for her children.
If you hit the jackpot tomorrow, what would you do first?
I would buy a better camera!
What is your favorite movie? Musician? Hobby?
Movie: Forrest Gump. Musician: Billy Joel. Hobby: photography and gardening.
What do you want your legacy to be?
That I was a good mother and wanted to make a difference in the community.
I truly believe in the power of collaboration to achieve the greater good. With that said, we are excited to have a multitude of partnerships and collaborative initiatives—from introducing JA's signature high school entrepreneurship program, "JA Company Program," alongside Startup Greater Peoria, AppsCo and the Turner Center for Entrepreneurship at Bradley University, to partnering with the Greater Peoria Economic Development Council to implement GP CareerSpark, an eighth-grade career expo impacting nearly 4,600 students in its third year.
Our newest ventures include JA Finance Park Virtual (an immersive simulation covering a variety of financial literacy topics), JA High School Heroes (leadership development opportunities for high school students) and the creation of a young professionals board.
Describe your board service and community involvement. What causes are near and dear to you?
Over the years, I have served on many local and national boards, primarily in the areas of workforce and economic development. I currently serve on the Board of Governors for the Creve Coeur Club, Align Peoria's Operating Board and the Emerging Workforce Committee—a collective effort of the Greater Peoria EDC, CEO Council, regional school districts, Illinois Central College, industry partners and community-based organizations. I like to be involved in initiatives that strengthen our community and the quality of life here for all.
What are your passions? Tell us more about your interest in photography.
I have had the great fortune to be able to travel, so over the years I have curated a collection of travel and nature photography from around the U.S. and the world. I am a self-taught photo hobbyist and use the editing process as a creative outlet to create my collections. I always wanted to have my own business, so having the side hustle on Etsy is a way to accomplish it in an efficient and rewarding manner. [Check out her fine art photography at etsy.com/shop/MindsEyeGifts.]
What do you consider to have been the most pivotal point in your career? Why?
Having the opportunity to join JA has been the highlight of my career. As I mentioned before, I believe that my professional experiences have led me to be right where I am—to take what I have learned over the years, put it to good use and have a positive impact on future generations of leaders.
What is the best piece of advice you ever received?
Early in my career, I was having a conversation with an older colleague about work and professional goals. It must have been the way I was expressing myself, because he said to me, "Don't ever be overconfident." That has stuck with me over the years.
What advice would you give to a young, up-and-coming female professional?
I would say, be true to yourself—don't compromise your values. Remember to have patience; sometimes things don't happen on your self-imposed timeline. Lastly, I would say to be a good listener. This can sometimes be hard, but it does pay off. PM